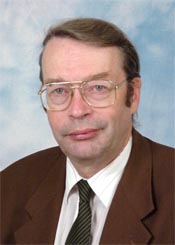 The BCHC is privileged to take its name from the late, Dr John Barrett, Professor of Zoology and former Pro-Vice Chancellor at Aberystwyth University (2000-05).
John Barrett's name is synonymous with the term parasite biochemistry, especially with advances in comparative metabolism and drug detoxification mechanisms. His first of over two hundred research papers was published in the journal, Nature, in 1968 while he was based at the Molteno Institute of the University of Cambridge. He contributed to a number of book chapters in parasitology, and his book 'The Biochemistry of Parasitic Helminths', published in 1981, remains a reference text for parasitologists worldwide, and was used to help annotate the schistosome parasite genome in 2009.
Originally from Chippenham, John graduated from Cambridge in Zoology in 1965 and was awarded a PhD in 1968. It was during his research for the PhD at the Molteno Institute that his interest in the biochemistry of parasites blossomed and he laid the foundations of a distinguished research career. Apart from his obvious intellectual capacity, his hallmarks were kindness and a ready, but always gentle wit, attributes that were evident throughout his career.
The significance of his early work on metabolic pathways of parasites was quickly recognized. On leaving Cambridge he held a National Institute of Health research fellowship at the University of Massachusetts from 1968 to 1971 and was Browne Research Fellow at Queen's College, Oxford University from 1971 to 1973. He was appointed lecturer, later senior lecturer, in parasitology at Aberystwyth in 1973.
Here he joined Dr F. G. Rees, later Professor F.G.Rees F.R.S., a founder member of the British Society of Parasitology, and along with Dr M. R. L. Johnston they laid the foundations for excellence in both teaching and research in parasitology in the Department of Zoology at Aberystwyth.
These were productive times for John Barrett. He quickly established a rapport with undergraduate students and was recognized as a stimulating lecturer at the forefront of his field. He was a dedicated research supervisor and throughout his career successfully obtained research council funding to maintain an impressive team of graduate students and postdoctoral fellows who were actively encouraged to publish group findings in a wide range of international biochemical journals. Many went on to establish successful careers as leading parasitologists.
John was awarded a DSc from the University of Wales in 1982 and appointed Head of Department and Professor of Zoology at Aberystwyth in 1983, a post he held until 1988 when the department merged with the Department of Botany & Microbiology to form the Institute of Biological Sciences. In 1991 he was elected Dean of Science and over the next three years was instrumental in steering the Faculty in its move to modularity and a two semester teaching year, a task that called on his patience and clear understanding of the needs of undergraduate training in science. Later, in 2000 Professor Barrett was appointed Pro Vice-Chancellor, a post he held until 2005.
Through his awareness and understanding of contemporary issues in higher education he was able to make a substantial contribution to the running of the University. Whether involved in student affairs or management and strategic planning, he was master of his brief and fully committed to the University. The value of his skills in management and administration were no more clearly evident than, when on the point of retirement, he was persuaded to take on the interim headship of the Department of Sport & Exercise Science during the search for a permanent head.
The responsibilities of management did not lessen his research impact and contribution to the work of learned societies. He was awarded the C. A. Wright medal by the British Society for Parasitology in 1985 for his outstanding contribution to the discipline, and the Bueding-von Brand award from the American Society of Parasitologists in 2001 for his exceptional record of achievement in the study of the biochemistry of parasitic helminths and the drugs used to treat them. He served as Council Member for both the British Society for Parasitology and the Society for Experimental Biology, and was President of the British Society for Parasitology from 2007 to 2009. He chaired the World Health Organisation's steering committee on chemotherapy for schistosomiasis from 1987 to1992 and was until recently a member of the Biotechnology & Biological Sciences Research Council's Animal Sciences Committee. He had an extensive network of collaborators in the UK and overseas and was made an honorary member of the Bulgarian Society for Parasitology.
Very sadly, John passed away on 30 March 2011 aged 67, but his passion and dedication spanning four decades has left a remarkable foundation for the future of Aberystwyth University and the field of helminthology.