In late June, the BCHC were delighted to host a 1-day visit by Dr Cinzia Cantacessi and Dr Laura Peachey of the Department of Veterinary Medicine at the University of Cambridge. Dr Cantacessi and Dr Peachey are working to identify microbial populations in the gastrointestinal tract of parasite-infected horses and the changes that occur after drug treatment. In an exciting expansion to this research, staff from the BCHC and other IBERS colleagues may be able to assist in a similar examination of the effect of protozoa, viruses and perhaps even fungi.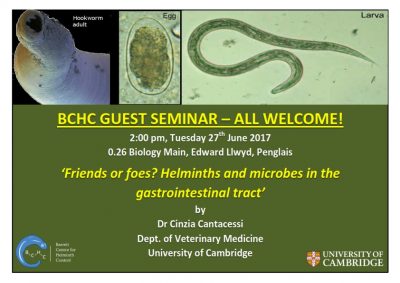 Dr Cantacessi also delivered an excellent seminar during her visit, attended by a great cross section of staff and postgraduate students from IBERS at Aberystwyth University and the IBERS Institute Director, Professor Mike Gooding.
Many thanks Cinzia and Laura and we look forward to our upcoming collaborations!